A virtual private server, or VPS, is a virtual machine hosted by a third-party cloud or hosting web service rather than on the company's hardware. A single physical server is partitioned into several isolated environments with virtual private server hosting.
When a company's or an individual's website or application outgrows shared hosting resources, they can switch to VPS hosting, which offers performance comparable to that of a dedicated server without the hefty price tag or administrative burden.
Virtual private servers (VPSs) improve efficiency, dependability, and safety. In addition, you are not required to share any of the resources mentioned above with any other individuals and have access to a fixed number of them anytime you require it.
How Does VPS Hosting Work?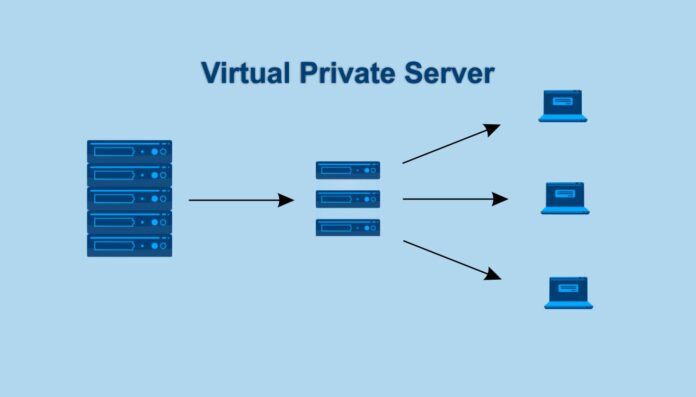 Your website's files and databases will be kept on a system called a "server" by your web provider. When a user visits your website, their browser requests your server, which transfers the required data over the internet. With VPS hosting, you get access to a server that looks and acts just like a dedicated physical server, but in reality, you're sharing the computer with numerous other people.
The hosting company will add a virtual OS to the server's existing OS using virtualization technology. This layer splits the server so that different users can set up their own operating systems and applications.
Due to the fact that you have total administrative authority over a VPS, it can be considered both virtual and private. On the OS level, it is isolated from other users on the server. VPS technology is analogous to using partitions on your local computer to simultaneously boot and run multiple operating systems (OSs) like Windows and Linux.
A VPS allows you to host your website in an isolated environment with dedicated hardware and software (CPU cores, RAM, disk space, and more). VPSs provide affordable root access similar to that of dedicated servers.
VPS hosting from the same provider will typically surpass Shared Hosting by a large margin (99 percent or more) due to the availability of additional system resources.
Compared to Shared Hosting, a VPS's greater access to memory and CPU cores allows it to process more requests at once, do more tasks in the same amount of time, and quickly serve online content.
Depending on the provider, a VPS could use hardware or software that differs from that of a Shared Server.
Because your users won't have to wait in line behind those of other sites, a VPS hosting plan will nearly always offer superior load times.
This can be understood by imagining a carnival with several distinct food stands, each with its own line. If everyone had to wait in the same line to visit each of the stands, the wait time would be much longer.
Most websites will benefit from the increased speed VPS hosting provides, increasing the likelihood that visitors will convert. You may get by with a shared hosting service if your site is small. However, you will likely observe a distinction if your website is particularly huge or crucial to the expansion of your company's sales and profits.
When & Why Should You Choose Virtual Private Server?
As a general rule, VPS hosting is considered the next logical step after a website outgrows the limitations of shared hosting. You should consider switching to a VPS plan if even the most powerful shared hosting package is no longer sufficient to keep your website online and running efficiently. When this is the case, VPS can offer the advantages of both shared and dedicated servers.
While there are some situations where it might not be a smart idea to begin with, a VPS plan, there are others when it might be the best option. Online stores, for whom safe and reliable transaction processing is paramount, can reap many benefits from using a VPS. In reality, VPS can aid in lowering the likelihood of security vulnerabilities and identity theft if you are required to store sensitive data or process online payments.
A VPS hosting package can also be a lifesaver if your website has predictable traffic spikes at specific periods, as is the case, for example, with an event planning or ticketing website. Virtual private servers are ideally suited for hosting game servers like Counter-Strike: Global Offensive and Minecraft, as well as other resource-intensive websites.
Zero Maintenance: Since the virtual server administrator will be in charge of routine maintenance, you won't have to.
Multiple VMs: These servers can be "sliced up" to accommodate numerous VMs, allowing you to host multiple virtual machines (VMs) on a single physical server or access other businesses' data on the same physical server.
Stability: In contrast to shared hosting, your Virtual Private Server will not be affected by the traffic or actions of other users.
Performance:You and your site visitors will experience less waiting for pages to load with your dedicated set of resources.
Dedicated Resources: Your private server with increased storage space, central processing unit (CPU), and random access memory (RAM).
Versatility:You can set up the server with whatever operating system and programs you like.
How Should You Decide on a VPS Hosting Plan Provider?
Now that you know what a VPS is and when you should update, we can discuss the characteristics of a good VPS plan and how to select the most suitable web host. Surely you wouldn't let just anyone handle your website.
Cost
It's important to address the proverbial elephant in the room—the provider's fee—before moving on. Although price is important, remember that you typically get what you pay for. If you think a less expensive service is what you need, keep in mind that they typically have more concerns related to downtime and resource abuse.
However, you shouldn't automatically assume that the most expensive server is the best choice. Your site will be hosted on the most expensive servers available. However, it's possible that your organization doesn't require such a huge initial financial outlay. Pick the service that best fits your needs and, if possible, one that offers a refund policy.
Reviews
You can learn more about the provider's popularity and service quality through testimonials from previous clients. Hosting plans that are worth it to buy can be determined with the help of customer reviews.
Reliability
Uptime guarantees of 99.5% or more are a must for any VPS hosting service you consider using. Your web host's performance cannot be any lower than satisfactory. When it comes to reliability, VPS Server has a 99.98% uptime record, making it one of the best in the business. Quit making fun of us; we're blushing.
Services, Resources & Capabilities
Web providers who are serious about setting themselves apart from the competition offer extras. And that's vital in a market where most vendors offer essentially the same things. Only a few unique touches may make all the difference.
Ask your VPS provider about everything they have to offer, including features, resources, and capabilities. If you want a one-stop shop for your hosting needs, investigate their 'add-on' options to see what else you can buy from them.
Considering how dependent you will be on your VPS provider for your site's uptime, you should view them as more of a "partner" than a simple vendor. Assure yourself that they have a long-term vision for your success!
Customer Service
When it comes to VPSs, customer support may be the most important factor of all. Nobody enjoys being made to wait around for a very long time before receiving a reply. Try to communicate with the web host's support staff before signing up for service, if at all possible.
On top of that, you should examine the available avenues for customer service. It's common for web hosts to include a ticketing system, but some will also offer live chat, a help desk, background knowledge, or even a community forum.
Managed Vs. Unmanaged VPS Hosting
Typically, you can choose between two different VPS hosting plans:
The VPS can be operated by the user (sometimes called unmanaged VPS)
VPS Hosting Management
If you select a self-managed service, you'll need to be comfortable with system administration, troubleshooting, and administering the programs, software, and services configured on your VPS. Choose a managed VPS plan if you don't know how to handle administrative tasks or if you'd rather have your hosting provider handle them.
VPS Server's fully managed VPS plans free you from the tedious administrative tasks so that you can concentrate on what really matters: the quality of your website's content.
The Final Thoughts
Virtual private server hosting removes the need to manage and maintain your own server while still providing you with all the benefits of running your own. This is a great option for sites that receive a moderate to a large amount of traffic, use a lot of resources, or sell products online.
The service's reliability is a plus for both established organizations and those with ambitious expansion plans. VPS hosting is a great option if you need a secure, enterprise-level hosting environment for your website at an affordable price. Consider LiteSpeed-powered Virtual Private Server (VPS) hosting with the Cyberpanel control panel pre-installed for a streamlined setup process.